Labour gains four seats on Exeter City Council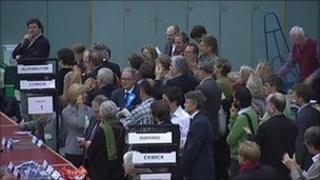 Labour has gained four seats on Exeter City Council, but the authority remains under no overall control.
The Liberals lost two seats, as did the Liberal Democrats.
The result means that the council now has one Liberal councillor, 11 Conservatives, 19 Labour and nine Liberal Democrats.
Labour's share of the vote was up 13.4% and the Conservative's up 4.5% while the Liberal Democrats' share was down 9%.
Exeter's Labour MP Ben Bradshaw said: "It's a very good night.
"We had hoped to win two seats, but we have won four including Heavitree and Alphington which Labour has never held before."
Exeter City Council published a full list of results for all the wards.
Votes in the referendum to keep the first-past-the-post system for electing MPs or switch to the alternative vote system will be counted later.