Conservatives victorious in Torbay mayoral election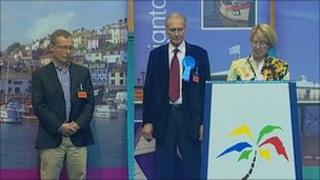 A Conservative will be the new elected mayor of the Torbay unitary authority in Devon.
Gordon Oliver beat the incumbent, independent candidate and the resort's first elected mayor, Nick Bye.
The result means that the council now has 22 Conservatives, nine Liberal Democrats, three councillors from other parties, and one from Labour and UKIP.
Counting for the mayoral elections in Torbay was postponed until 1100 BST on Friday.
Second preference votes were counted before Mr Oliver could be declared the winner.
The returning officer said many counting staff were tired after a "long day" and the delay was to ensure a safe and accurate decision.
Staff face counts for three polls - the mayoral election, local council election and the AV referendum.
Counting for the mayoral election started after polling stations closed at 2200 BST on Thursday.
'People tired'
Returning officer Elizabeth Raikes said: "We underestimated how long it would take us.
"People are getting tired and I'd much rather have an accurate and a proper and safe count than one that was quick."
It is the second time a mayor has been elected, after the post was created by Torbay Council in 2005.
In the council elections - the two biggest parties, the Conservatives and the Liberal Democrats, put up candidates in all 15 seats.
Labour was also fighting all 15 seats, as were the Greens.
There were eight independents, three from UKIP, three from Voice for Torbay, one from Liberty Worth Voting For and one from the English Radical Alliance.
Both Conservatives and Liberal Democrats lost one seat each.
Devon got its first UKIP councillor when Julian Parrot won the Ellacombe seat.