Labour gains five seats on Plymouth City Council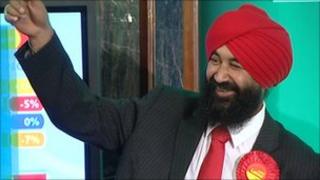 Labour has gained five seats on Plymouth City Council, but the authority remains under Conservative control.
The Conservative Party, which took control in 2007, now has 32 seats and Labour has 25. There are no other political parties on the council.
Labour gained four seats from the Conservatives and one from an Independent councillor.
Chaz Singh, thought to be Plymouth's first Sikh councillor, won Drake ward.
Mr Singh, a trainer at black and minority ethnic support group Fata He, said: "This is a victory for the Labour Party and also for diversity.
"I am very proud.
"The people of Drake ward have made the right decision."
Conservative group leader Vivien Pengelly said she was disappointed with the results, but "delighted" that the group was still in control of the council.
She said: "It's always extremely difficult when you have your own party in government that has had to make such difficult decisions."
The authority, which published a full list of results from all wards, said the Conservative group would now select a Cabinet which would be confirmed at the annual council meeting on 20 May.
In the first UK-wide referendum since 1975, voters were also asked whether they wanted to keep the current first-past-the-post system for electing MPs or switch to the alternative vote system.
Counting will take place later.