Devon's Bicton College to get £3.5m for new facilities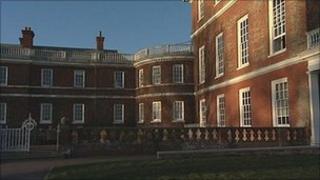 A college in East Devon has been told it will receive more than £3.5m to invest in its future.
Bicton College faced the possibility of closure in 2010 because of £3m of debt.
Principal David Henley said the financial difficulties had since been resolved and the college said the money was a vote of confidence.
The money, from the Skills Funding Agency, will be used to develop three training facilities for renewable technologies and animal care training.
Mr Henley said: "Equine, renewable technologies and animal care are growth areas for the college and for the South West's economy."
The college said equine studies would benefit from the money with an international sized dressage arena and improved viewing gallery being built.
It said more than £1.5m would be spent on Bicton EaRTH - a new teaching and training centre for renewable technologies.
Mr Henley told BBC News financial difficulties had been resolved thanks to the hard work and determination of staff and the support of stake holders across Devon.
A spokesperson from the Skills Funding Agency said the amount was not a grant and would be repaid in full.
Bicton became Devon's last agricultural college when Seale-Hayne College in Newton Abbot closed in 2005.