Travellers 'not moving' from Dartmoor site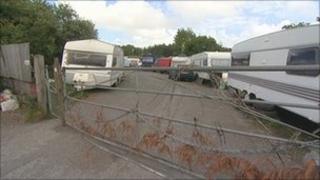 Travellers parked on the edge of the Dartmoor National Park have said they are not going to move on because they have got nowhere else to go.
An enforcement notice was served on the travellers last year and a deadline for them to move has now passed.
They said there were no suitable official sites available anywhere near their current location at South Brent.
The Dartmoor National Park Authority said it had to wait for a report in the autumn before action could be taken
Travellers have been on the site at Marley Head since 2007.
They said that they currently had no option but to stay.
'Paying rates'
One traveller, Tina, said: "Where would you like us to go?
"Would you like us scattered all over Dartmoor, where we'll get called an eyesore? Or do you think it's safer here?
"We're enclosed, we're paying rates, we're working, we've got children in school."
Dartmoor National Park, the local planning authority, has several options available, including seeking a court injunction to have them forcibly removed.
However, welfare checks would have to be carried out before any action was taken.
Stephen Belli of the park authority said: "Clearly the position is, particularly when you're dealing with families or vulnerable people, that any responsible planning authority has to work with due diligence."
Retired farmer Gerald Cleave, one of the four owners of the land the travellers are on, said any delay was an example of red tape.
He said: "Why are they dilly dallying? They have human rights but what about my human rights? It gets me really infuriated."
A site report has to go to the park authority in the autumn before any further action can be taken.
Meanwhile, the travellers said they hoped politicians would take steps to provide official sites to end illegal encampments and lengthy legal arguments.