Plymouth spends £2m on weather-damaged road repairs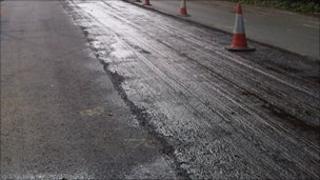 Nearly £2m is to be spent by a Devon council on some of the roads worst affected by severe winter weather.
Plymouth City Council will begin a £1.8m four-month repair programme on Monday.
It said the investment was necessary to upgrade the city's road network following two of the worst winters in recent history.
The work is in addition to a 50-week programme of "patching" smaller areas of road that has already begun.
The council said transport and highways had assessed the city's road network using a range of criteria which included user safety, pothole numbers, the degree of cracking and ride quality or "bumpiness".
'Pothole-busting'
The number of complaints received by the council and the needs of local businesses, amenities, schools and public transport had also been considered.
Each site has been prioritised and roads in the worst condition will generally be repaired or resurfaced first, although the council said consideration would be given to the category and usage of the road.
The council said teams of "pothole-busting" teams of workers would be working to resurface roads damaged by the snow and ice.
Some temporary repairs will still be undertaken where absolutely necessary to keep the city moving until more permanent repairs can be completed.
Kevin Wigens, cabinet member for transport said: "We have listened to residents' concerns and while we can't tackle all roads in the city, the extra money we are putting into road maintenance through Operation Upgrade will make a big difference.
"In total, the programme will resurface and repair about 125,000sq m of road - this is equivalent to approximately 16 football pitches."
Some of the money - £432,741 - being used on the £1.8m programme has come from £200m pledged by the government to help local councils repair road damage.
The council said residents will be able to access information and progress updates on Operation Upgrade on its website.