Dartmoor landowner in rates protest over travellers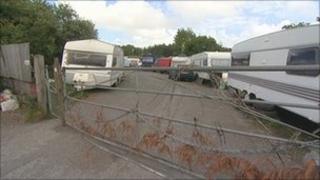 A landowner who had an illegal travellers' site appear on his property is refusing to pay rates in protest.
Stephen Meyrick said the £4,500 bill for the land on Dartmoor was unfair and unjust when he could not do anything with it because of the occupants.
The travellers said they could not move on because they had nowhere else to go.
South Hams District Council said it had sympathy for Mr Meyrick but added that landowners had a responsibility to pay rates whatever the situation.
Travellers have been on the site at Marley Head, near South Brent on the edge of Dartmoor, since 2007. There are currently about 30 people living there.
The land belongs to four landowners. Mr Meyrick owns the largest strip of land, which he bought in the hope of using the site in future for business or resale.
Land 'useless'
But with the travellers refusing to move on, he said the land was useless and he did not agree with having to pay rates.
He said: "I think it's unjust, considering I'm not able to use the site.
"I've written letters and tried to deal with issues and don't seem to be getting anywhere. I just don't think it's fair."
South Hams Council said a new law came into effect recently ruling that, even if land was unused, rates must still be paid.
But the authority said it would look into options for rates relief.
District councils are responsible for providing official sites for travellers but there are none available in the South Hams area.
One of the travellers told BBC News that the group already paid water rates and they would be happy to pay more, but that they had to stay because they did not have anywhere else to go.
An enforcement notice was served on the travellers last year and a deadline for them to move has now passed.
The local planning authority, Dartmoor National Park, has to carry out welfare checks before any action is taken to evict the travellers.
A site report is due to go to the park authority in the autumn before any further action can be taken, it said.