Alpha to Omega: Exeter artist's Bible painting project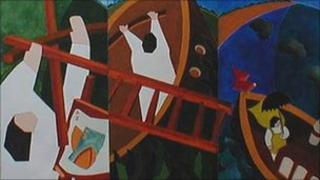 Exeter artist Brian J Turner is six years into his epic 30-year project to paint the entire Bible.
"I try not to think of the enormity of it all," he said.
So far he has completed about 300 paintings, but predicts the complete collection will number between 2,000 and 3,000.
His works feature scenes from biblical stories, such as Noah's Ark and Jesus turning water into wine.
The Bible Project started in 1995.
Brian had just completed a tour of some of his paintings with a religious theme and was wondering what to do next when his wife suggested he paint the entire bible.
He said "I thought it was a great idea," although he admits she probably said it to keep him occupied as much as anything else.
The artist, who graduated with a degree in fine art from Exeter College of Art in 1978, works from his gallery in Exeter's Queen Street.
He paints mainly in acrylic on board and is currently working on a series of paintings based on the New Testament book of Luke.
"I'm not doing the Bible start to finish. It can't be done A to Z, that would drive you crazy. It would become too boring."
He said his mood changes depending what book he is working on: "I've done a lot of paintings from 1 Kings. It's such a deep book you can't help taking on board some of its flavour, feeling depressed, etc.
"My wife always knows when I've been in it."
Mr Turner said he relished the challenge of painting some of the bible's drier or more figurative books, like Leviticus, which is full of legal advice; or Psalms, which is a series of songs and poems.
"You could easily just paint the juicy bits, for example the story of Adam and Eve, or Jesus walking on water. But the enjoyment is trying to find an image that, for me, sums up the event; for example the description of the Seven Seals in Revelation.
He said people who had had a dull experience of the Bible when they were younger had become "quite enthusiastic about biblical narrative" after seeing his work.
"I don't view the Bible as a book that was. I view it as a book that is. It's today I'm interested in.
One of his paintings covers the New Testament account of Jesus healing a paralysed man who was lowered through the roof of a crowded building.
'Invigorated faith'
But his painting depicts the roof being repaired afterwards rather than the moment of healing itself.
"I am looking at something that's a little bit behind the scene rather than in front," he said.
Another painting features three gossipy-looking women laying the table for the Last Supper in a humorous style reminiscent of the late Plymouth artist Beryl Cook.
Mr Turner said Exeter University is running a three year project to incorporate his Bible paintings within the Key Stage 3 Religious Education curriculum for schools.
Although some of his canvases have been sold privately, he said he hoped to gather the complete collection together when the project was completed "although I will be in my 80s then."
He said the experience of painting the Bible had "illuminated" his faith.
"The depth of the writing in the Bible has enriched my world and has enabled me to put into images something that just pours out," he said.
"It has invigorated my faith and enlivened my belief. It's also raised a lot of questions.
"When you're painting, you're reflecting. It's focusing your mind on that event."