Paignton man's body 'may have be hidden by potholer'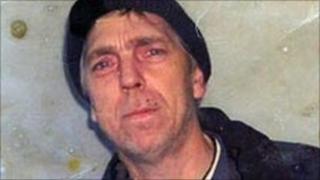 A killer may have used his knowledge of potholing in the Devon countryside to ensure his victim's body will never be found, an inquest has heard.
Stephen Price, 47, has not been seen since he was heard arguing with Andrew Lawless outside his house in Paignton, Devon, three years ago.
Lawless, 43, is serving a life sentence after being found guilty of stabbing Mr Price to death in a row over parking.
Earlier Torbay Coroner Ian Arrow recorded a verdict of unlawful killing.
The inquest in Torquay heard Mr Price, who was a grandfather and father-of-three, was killed and possibly dismembered after confronting Lawless on 2 May 2008.
The outdoor pursuits enthusiast had been camping in a transit van in a parking space outside Mr Price's home in Great Western Close.
Widespread searches
Lawless called the police to complain that Mr Price was pelting his van with golf balls.
The police said officers were unable to attend the incident because it was a busy bank holiday evening.
Det Insp Gerry Mudge said Lawless told a friend he had cut up the victim.
Neighbours reported hearing a heavy object being dragged to the van on a piece of tarpaulin stolen from a nearby garden.
Lawless drove off from the cul-de-sac at 2230 BST and returned some time before 0115 BST.
Det Insp Mudge said widespread searches were made for the victim's body in the Totnes area after Lawless made a phone call which suggested he was travelling towards the nearby town.
He said: "Lawless was a potholer, he knew obscure parts of the countryside and he was a mountain bike rider who knew South Devon very, very well.
During the hunt for Mr Price police searched the isolated Larcombe Quarry at Diptford and a disused copper mine near Ashburton.
Det Insp Mudge said: "The body has never been found and must have been disposed of thoroughly or hidden in an inaccessible location."
He told the inquest Lawless had been interviewed repeatedly but had never admitted the crime or offered any clues to the location of the body.
Recording his verdict, Mr Arrow said: "Regretfully, we don't know the injury or disease which caused death but I am satisfied the deceased was murdered in Great Western Close and this was an unlawful killing."
None of Mr Price's family attended the inquest but after Lawless's conviction last year they appealed to him to reveal the location of the body.
Mr Arrow needed a special warrant from the Ministry of Justice to conduct an inquest without a body.
The legal procedure is not unique but it is very rare.