Police called in Devon waste charge row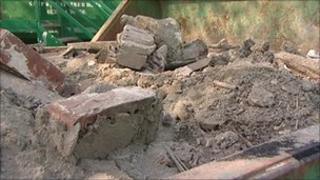 Police were called to a Devon recycling centre after a dispute over new charges for dumping rubble.
Andrew Thompstone, 44, from Ashburton, was dropping off the waste at the Newton Abbot site when an argument started over the charge of £2 a sack.
The county council, which on 1 April started charging for rubble at its recycling sites, said staff were "reasonable people".
Police confirmed they were called to the site.
Mr Thompstone said he had gone to the Brunel Road site on 3 May to dump rubble from DIY work at his home.
The bags were half full to make them easier to carry.
He said staff told him the charge was still £2 a bag, an argument arose over the cost and he was ordered off the site by security staff.
'Losing tempers'
"I had to call the police so they could escort me back into the centre to get my car back," he said.
A police spokesman said there had been a "handful" of arguments about charges at the site.
"Occasionally this has led to people losing their tempers and breaching the peace," he said.
Conservative-controlled Devon County Council said the charges were introduced because disposing of waste such as rubble, tyres and asbestos cost the authority £1m in 2009/10.
A spokesman said: "Staff at our recycling centres are reasonable people who want to help the public recycle their waste.
"They are not deliberately obstructive or unhelpful and do not make up charges on a whim.
"The charges only apply to certain types of non-domestic household or DIY waste, and are a fair way of offsetting the increasing cost to council-tax payers.
"Thankfully most people have responded responsibly to the introduction of these charges, and unpleasant situations like this have been avoided."
The spokesman added that they had had to employ security for the site some years ago because it was increasingly being used illegally by commercial businesses to dispose of their trade waste, leaving council tax payers to pick up the cost.