Dispersal order covering seaside town of Exmouth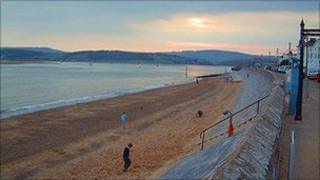 A dispersal order covering the entire town centre and seafront of a Devon resort has been put in place.
It gives Devon and Cornwall Police the power to move on or arrest groups of two or more people anywhere in Exmouth town centre and seafront.
The authorities applied for the section 30 dispersal order to deal with complaints of anti-social behaviour.
But some of the town's teenagers have said it is too harsh and they should first be given a warning.
"Nobody wants to be moved on or sent home because that's your day or weekend ruined," one teenager said.
"They should give us a warning first - that would give a wake-up call."
'Not very attractive'
Pc Amber Skey said the order had already been used to disperse a group of young people.
"There were some lads going in and out of the ladies' toilet, spitting, play-fighting and kicking the bins," she said.
"They were really not behaving themselves, but not enough to arrest so it worked perfectly."
Local MP Hugo Swire said: "I've been out with the police and on a Friday or Saturday night, I can tell you it's not a very attractive sight.
"We've got to strike a balance between people enjoying themselves... with the desire of the law-abiding majority to go about their business free from intimidation."
The MP said he would be willing to meet teenagers who claim they are being moved of "for no reason".
"If there's evidence that the police are just moving them on and harassing them, then I think that would be a disproportionate use of their powers," Mr Swire added.
Exmouth Mayor Darryl Nicholas said: "With a town of more than 40,000 you're bound to have the odd trouble here and there and I think this dispersal order is exactly the right thing.
"It enables the police to almost prevent any trouble before it starts."
Mr Nicholas said he did not accept claims that officers were being "over zealous".
The dispersal order in the town will remain in place until the end of November.