Oakdown caravan park near Sidmouth celebrates 60 years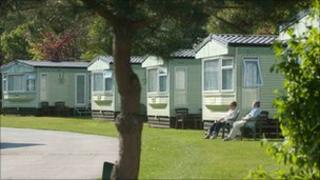 A family-owned caravan park in Devon is celebrating its diamond jubilee.
The first static caravan arrived at the Oakdown Country Caravan park, near Sidmouth, on 13 May 1951.
It has been owned and run by the same family for the past 60 years and was named AA South West Regional Campsite of the Year 2011.
The site is believed to be one of the first designated caravan parks in England.
The idea came from a Devon businesswoman Jill Bennett, who approached farmer Edgar Ellis with the concept of having a caravan in the corner of one of his fields to let for caravan holidays.
Previously, the farmer's fields had been used by touring cyclists, boy scouts and girl guides for camping trips.
'Amazing development'
Over the next nine years Ms Bennett increased the number of static vans to five, but when the site needed to be formally licensed under the 1960 Camping and Caravan Act, it was taken over by the farmer's daughter, Doreen Franks, who still runs it her family.
Mrs Bennett, now aged 101, who has remained in touch with the family over the years, will be attending the diamond jubilee party at the park.
"They've come a long way since I first convinced them to let me put a caravan in their field, and it is amazing to see how it's developed over the years," she said.
Doreen Franks said her father's decision could be described as "an early form of farm diversification".
Mrs Franks said: "Following the arrival of that first static caravan in 1951, it was clear that there was a real enthusiasm for this new kind of holiday which had begun to replace the traditional boarding house holiday.
The site now accommodates 72 static caravans with space for 150 touring caravans and storage for a further 150.