Inquest records Exeter screwdriver death unlawful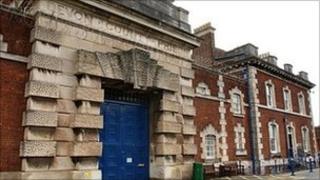 A man repeatedly stabbed with a screwdriver during a raid on his home was unlawfully killed, an inquest has ruled.
Michael White, 57, was allegedly killed by Marc Mehmet, in his bedsit in Magdalen Road, Exeter, Devon, in 2007.
The inquest was told after the killing, Mr Mehmet and his girlfriend Charley Proctor celebrated with champagne and cocktails.
Mr Mehmet hanged himself in Exeter jail before his murder trial.
The court heard Proctor, then aged 20, had befriended Mr White in a pub and persuaded him to buy her drinks and clothes.
Burglary plea
Proctor and Mr Mehmet, who had been drinking for 13 hours, had run out of money and decided to raid Mr White's flat to buy more cider and vodka.
They knew the victim kept money in his bedsit from selling bootleg tobacco in local pubs.
He was also a gambler who often won large amounts on the horses.
During the attack, Mr White was stabbed 40 times with a cross-head screwdriver, including once through the eye.
After the attack, Mr Mehmet and Proctor hid their bloodstained clothes, celebrated with a meal at a Chinese restaurant, including champagne and cocktails, then went to a nightclub.
'Lovely old man'
Proctor was initially charged with murder but was jailed for two years and nine months after the prosecution accepted a guilty plea to burglary.
Proctor, of Chaucer Road, Exeter, refused to answer any questions after being called to the inquest to give evidence.
Her original interviews were read out by Det Con Kevin Daymond from Devon and Cornwall Police
She told police she initially remained outside during the burglary, but later admitted that Mr Mehmet had asked her to join him because he could not find the money. She said she had not killed Mr White.
He was "just a lovely old man who bought me drinks in the pub," she told police.
Greater Devon coroner Dr Elizabeth Earland recorded a verdict of unlawful killing.