Dartmoor Ten Tors trekkers cross finish line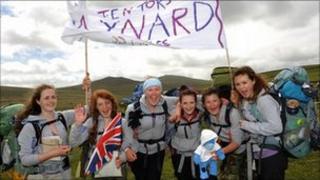 All the teams taking part in the Ten Tors challenge on Dartmoor have crossed the finishing line.
A total of 400 teams of six, ranging in age from 14 to 19, set off on Saturday on treks of 35, 45 or 55 miles.
Two teenagers were taken to hospital, one suffering from hypothermia who has since been discharged, and the other with breathing problems.
More than 60 youngsters had dropped out by Saturday night, fewer than previous years said organisers the Army.
An Army spokesman said it was to be expected during "a challenge as arduous as the Ten Tors."
Maj Mark Goodwin-Hudson said: "It's gone really really well.
"The weather has been fantastic, the children have done really well. It's been excellent.
"Inevitably, with more than 2,000 children in the area there are going to be some issues.
"But we have a very clear procedure for taking those that need support off the moor."
The two-day challenge, now in its 51st year, starts and finishes at Okehampton Camp on the northern edge of Dartmoor.
As part of the trek, teams have to camp out overnight on the moor and carry all the food, water, bedding, tents and other essentials.
Each team, most of them from local schools, is issued with a satellite tracker that features a panic button, in case they get into trouble.