Okehampton firms re-employ 80 after 300 redundancies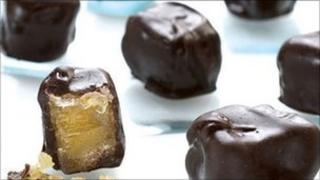 Eighty out of more than 300 people made redundant in a Devon town earlier this year have got their old jobs back.
Production has restarted at Browne's Chocolates and at frozen desserts company Polestar, after both firms went into administration.
The news comes after Robert Wiseman Dairies announced in January that 69 jobs were to go, before Polestar laid off 232 people two weeks later.
After going into administration in March, Browne's axed 20 jobs.
But, Browne's and Polestar have now both started production, on a smaller scale than previously.
Businessman Jo Keohane, who bought out Browne's, has taken on 10 of the 25 staff laid off and says there will be more as the company expands.
"We are very ambitious about growth and want to double the business here in the next 12 months at least," he said.
'Horrible wave'
Polestar has been taken over by Devonshire Desserts, which has re-opened one production line and re-employed 70 people.
Heather, who has been re-employed at Browne's, said: "We were in total shock when the firm closed.
"It was like part of a horrible wave hitting Okehampton at the time."
She said it was "wonderful" having her job back in the town which is hoping more jobs will be created.
"We've come back from a very dark place. Okehampton can only look forward now."