Torbay faith school bus subsidy cut criticised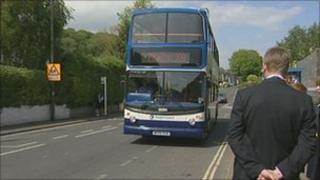 A Devon council has been criticised for a decision to cut subsidies on annual bus passes for children who attend faith or selective schools.
Passes are rising from £245 to £490 in the Torbay Council area in some cases. Some parents said they could struggle to afford them.
The council said it had to make cuts and protect front-line children's services.
It added that families on low incomes would not have to pay.
'Most vulnerable'
Critic Chris Collins said: "If families have two or three children, that's going into to be an increase of £500 to £750, which is a month's wages.
"I can't see how they can justify the cut."
Schools said they had already had queries from concerned parents about how the cuts will affect students.
St Cuthbert Mayne School head teacher Cathy Gilfillan said: "We've already had phone calls from prospective Year 7 parents saying, 'we didn't expect to have to pay this amount of money, and we may have to think again [before enrolling]'."
The council said the money was needed elsewhere.
Councillor Chris Lewis apologised to people who had seen increases.
However, he added: "But bear in mind that that money is being spent on the most vulnerable people in the bay."