Traditional farming methods for Devon village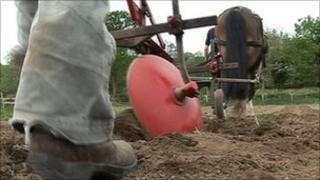 A Devon village has returned to traditional farming methods to produce fruit and vegetables.
Under the scheme people in Chagford buy a share of the harvest and some volunteer their time to help produce it. The crop is delivered by horse and cart.
Chagford Community Agriculture (CCA) has 30 members but hopes to increase it to 80 by 2012.
Members said it was important to keep traditional skills alive.
The CCA uses horse power for cultivation, tillage and to transport the produce.
Member Chinnie Kingsbury said the project prided itself on using hand tools and human labour to farm the land.
Member Ed Hamer said: "We think it's important young people get involved with farming and learn these skills so they don't die out."
The CCA said the scheme was launched in March 2010 after increased demand for more fresh and affordable local produce.
The Big Lottery Fund helped to provide the initial funding of £38,000 in 2010.
The grant was used to buy fencing, polytunnels, tools and equipment.
There are an estimated 4,000 community-supported agriculture schemes in the US.
The CCA said it believed there were about 45 in the UK.