Plymouth New Year's Day rapist jailed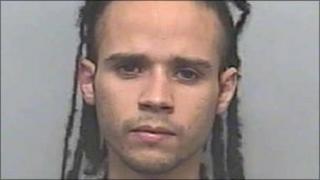 A man described as a predatory sex offender has been jailed for eight years after admitting raping a woman in Plymouth on New Year's Day.
Michel Andrade De Souza, 23, from Plymouth, attacked the woman in College Lane, in the Mutley area of the city.
She was on her mobile phone to her boyfriend and her shouts were captured on his voicemail as she was attacked.
De Souza, a martial arts expert, was arrested in London after CCTV images were released by police.
The court heard De Souza was filmed following his victim before attacking her in the early hours.
He told her he had a knife, put his hands around her neck and forced her to wear a blindfold throughout her ordeal, which lasted nearly half an hour.
Knife threat
David Gittings, prosecuting, said the woman was raped three times.
He said during the voicemail message, she could be heard shouting: "I can't breathe. You can have my money. I swear I'll give you what want."
De Souza could be heard saying: "I have a knife. Shut up, shut up."
After the attack De Souza told her to count to 30 before removing her blindfold so he could make his escape.
De Souza was an instructor in the Brazilian martial art Capoeira at a local club and was wearing its distinctive black and red hoodie when he carried out the attack.
'Horrendous crime'
Passing sentence, Judge Francis Gilbert QC told De Souza: "The effect of your actions on the woman was severe.
"She thought you were going to kill her."
Det Insp Costa Nassaris, of Devon and Cornwall Police, said he was glad that a "predatory sex offender has been caught".
He added: "Most of all I would like to pay tribute to the victim in this case.
"The attack was recorded on the voice mail of her mobile phone and it was particularly harrowing to listen to.
"We were all incredibly impressed by her bravery and presence of mind.
"In the months that followed we have been impressed by her determination to ensure that this horrendous crime would ruin the life of the offender and not her.
"She is a remarkable young woman."