Three hundred east Devon food plant jobs under threat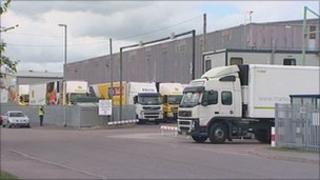 Nearly 300 jobs are under threat at a frozen storage and food distribution centre near Cullompton in east Devon.
The site at Willand, operated by TDG, has 280 staff and provides storage and distribution for Morrisons' supermarket stores in south-west England.
Morrisons is to consolidate its activities within a new distribution centre in Bridgwater, Somerset, TDG owner Norbert Dentressangle said.
Staff will get a chance to relocate in October or November, it added.
Norbert Dentressangle, which acquired TDG in March, said that no decision had been made about the Devon site's future yet.
It added: "In the short term, our priority is to ensure that all colleagues at Willand are kept fully informed and that the transition to Bridgwater is completed efficiently and smoothly."
Local business leaders said the move could badly affect the mid-Devon economy.
Tim Jones, from the Devon and Cornwall Business Council, said: "To transfer up to Bridgwater - with the current costs of transport, petrol, etc - is going to be a big ask for a lot of the existing staff, so I would expect to see genuine job losses."