Plymouth train washing water problem is fixed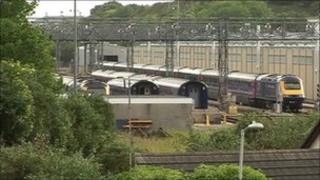 A fault which caused the water supply in a Plymouth Street to go off every time trains at a nearby depot were washed has been fixed.
Residents of Mount Gould Road in Plymouth said the water supply had been affected for about three weeks.
South West Water said a faulty valve at the depot meant that water being used to clean trains was being released too quickly, interrupting the supply.
It said the fault had now been resolved.
The company, which had a meeting with Network Rail earlier to discuss the problem, said the water supply to about 20 affected properties in Mount Gould Road had "returned to normal".