Volcanic ash cloud affects flights to and from Devon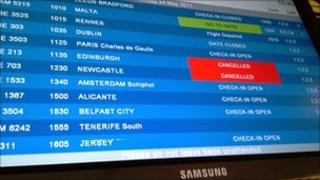 Flights between Devon and the north of England and Scotland have been affected by drifting ash from an Icelandic volcanic eruption.
The BBC understands about 100 passengers had their flights cancelled from Exeter Airport to Edinburgh and Newcastle on Tuesday.
Air Southwest and Flybe said a number of its flights had been affected.
Passengers at Plymouth and Exeter airports had flights cancelled and delayed.
'Larger grains'
All Plymouth passengers have been asked to check in as normal, but to also keep checking their airline's website.
Exeter Airport said that unless a flight was cancelled, passengers should go to the airport to check in at the time requested by the airline.
The ash cloud, from the Grimsvotn volcano, is not due to reach other parts of the UK until later this week.
Experts said it was not expected to cause the kind of disruption created when Eyjafjallajokull erupted in April 2010.
They said the material produced this time was likely to be in the form of larger grains that would fall out of the atmosphere much faster.