Help for Heroes funds Plymouth armed forces rehab centre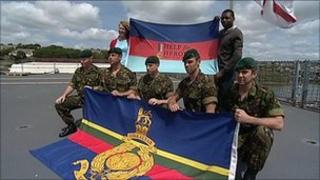 A new rehabilitation centre for injured service personnel is to be built in Devon, thanks to a £20m donation from Help for Heroes.
The temporary facilities at Devonport Naval Base in Plymouth will be replaced with an accommodation centre including a hydrotherapy pool and gym.
The centre will help service personnel recover from their injuries.
The charity Help for Heroes has pledged the funds for the facilities, which are expected to be completed in July 2012.
Former Royal Marine Ben McBean lost his arm and leg during a land mine blast.
He said: "It [the centre] has given me the confidence to be a civilian and live my life."
The facilities will benefit personnel from the Royal Air Force, Royal Navy and Army.