Exeter flights return to normal after volcano ash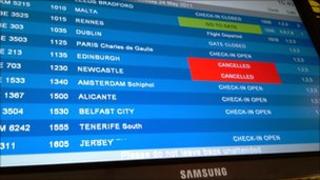 Flights are operating as normal from Exeter Airport after disruptions caused by ash from an Icelandic volcanic eruption.
Concerns were raised on Tuesday about flights including ones to Hanover and Toronto but both flights will be leaving as normal, said airport bosses.
They are hoping the ash cloud will not return to disrupt people on half-term holiday breaks.
Passengers have been asked to check their airline's website.
The UK's Met Office said ash might return to affect much of the country on Friday.
Forecasters said that if eruptions from the Grimsvotn volcano continued at "current variables", all areas with the exception of East Anglia and south-west England might be affected by ash, with the potential to disrupt flights.
"On Friday, at between 35,000 and 55,000ft, there could be a risk of a high concentration of ash covering most of the UK," a spokesman said.