Devon firefighters in Woodbury Common anti-arson drive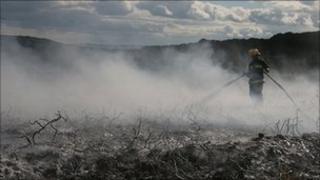 Firefighters are to patrol a Site of Special Scientific Interest in Devon in a bid to discourage arsonists.
Officers using mountain bikes and video cameras have been prompted to act after two large fires at Woodbury Common since March.
Devon and Somerset Fire Service said staff would wear plain clothes and record necessary evidence on film.
The service said bikes enabled firefighters to cover large areas of the common quickly and easily.
Devon and Cornwall Police, Clinton Devon Estates and the RSPB will help the fire and rescue service to monitor the site and gather evidence.
An RSPB spokesperson said they were particularly concerned about the Dartford warbler population.
They said the species had been affected by the harsh winters and the fires were a real concern for its survival on the East Devon heaths.