Missing man Joel Andrews 'seen on mini motorbike'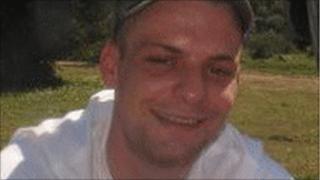 Police have renewed an appeal to anyone who went to a rave in Devon 11 days ago to help in the hunt for a missing man from Wales.
Joel Andrews, 24, of Caldicot, Monmouthshire, was last seen on 22 May at the Fernworthy Reservoir area near Chagford.
Mr Andrews' family has said it was "not in his nature" to disappear.
In the appeal, police said Mr Andrews had been seen riding a miniature motorcycle near the reservoir.
Mr Andrews' sister, Carleigh Deakin, said he was a "very family-orientated man, even more so since moving home with our mum and close family".
She said the family was "begging" anyone with any information to contact police.
Safety concerns
She added: "My mum has also asked the parents of any children who attended the rave to speak to them and explain how they would feel if their own child had gone missing and understand how our family is feeling at this time."
Det Insp Steve Parker, of Devon and Cornwall Police, said friends from Bristol who attended the rave with Mr Andrews had not seen him since 24 May.
He said: "We have a team of detectives working round the clock to find Joel. But as time goes on our concern for his safety inevitably increases.
"A key line of our enquiries centres around Fernworthy Reservoir where Joel was last seen, and we are particularly keen to hear from a group of people seen wading in the south bank area of the reservoir on Sunday lunchtime.
"It may be they noticed something which at the time seemed insignificant but it could be a vital clue for our investigation.
"Following our enquiries we also know that Joel was seen riding a mini moto in the area around the reservoir.
"We are keen to hear from anyone else who saw Joel on the moto and would like to speak to the owner of the bike and ask them to contact police."
Mr Andrews was last seen wearing a grey Animal hooded top and jeans and a dark green waist-length jacket.
A Facebook page has been created by friends who joined the search for Mr Andrews.