HMS Trenchant rejoins Royal Navy fleet in Plymouth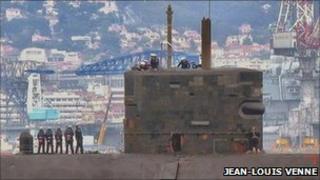 The submarine HMS Trenchant has been reintegrated back into the Royal Navy fleet in Plymouth.
The vessel had been in port since 2009 for improvement works, including sonar and cruise missile upgrades.
A rededication ceremony has taken place at Devonport to welcome the vessel back to the fleet and included 200 people associated with the submarine.
HMS Trenchant will start a training period of six weeks before working on operations around the world.
Lady Meriel Hunt launched the vessel in 1989 and was the guest of honour at the ceremony.
HMS Trenchant is a Trafalgar class hunter-killer submarine.
Her commanding officer Irvine Lindsay said: "This is a very special day for HMS Trenchant and her ship's company.
"She is packed with the latest equipment and weaponry and will be a potent presence worldwide for many years to come."