Skate ramp opens in Kingsteignton, Devon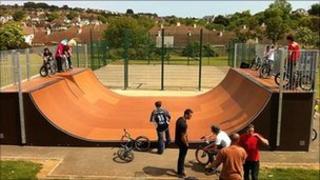 A £53,000 skate ramp has opened in Devon after three years of campaigning by residents to find the funds.
Police said the ramp in Kingsteignton was needed because people were building their own ramps out of pallets, which was a traffic hazard.
Fundraising from residents and grants from local authorities helped to pay for the project.
PCSO officer Vanessa Pike, who helped to start the project, said after three years it was a "dream come true".
"The whole community are benefiting from it, people have travelled from Totnes and Teignmouth to use it," she said.
"The skaters and bikers now have somewhere to practise instead of using the industrial estates and endangering themselves and others."