Exeter Council considers weekly bin collection return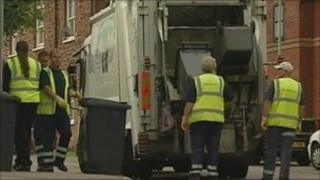 Exeter City Council is to debate reinstating the city's weekly bin collection.
Bins are currently collected fortnightly with some residents claiming some areas are like a "slum" with rubbish attracting rats and mice.
The Labour-run council said weekly collections would cost £1m a year.
The council's Conservative group said it would consider charging residents for weekly collections if they voted for it in a referendum.
Yolanda Henson, leader of the Conservative opposition, said: "I've always been against any charge on any rubbish, but times change.
"If it was put to the people of Exeter in a referendum we'd have to look at it again."
Ms Henson said people already paid extra for garden waste to be collected from the city's brown bins.
City resident Josie, who lives in the Mount Pleasant area of Exeter, told BBC Radio Devon: "It's called Mount Pleasant but in fact it's more like a slum, it's very very squalid.
"As you walk along the street you have to go into the road because bins bags have been picked over by seagulls or rats or foxes."
'Not a problem'
Exeter has been collecting rubbish fortnightly in some parts of the city for several years and last September increased the area covered to include another 14,000 households.
Council leader Pete Edwards said the fortnightly bin collections were "not an issue" for most people in Exeter.
"I walk around and I don't see what [Josie] says she sees."
He also said weekly bin collections produced more rubbish.
He said: "If you look at statistics now the 5,000 people in the city still on a weekly bin collection throw away 20% more rubbish than people on bi-weekly collections."
The council claims a return to weekly collections would cost an extra £400,000 a year in landfill taxes alone.
In early January, rubbish left uncollected because of the icy weather began to pile up on the city's streets.
Mr Edwards hit the headlines when he said the fact rubbish had not been collected for four weeks was "not a major problem".
Last year the Coalition government signalled that it wanted to see the return of weekly bin collections across England.
About 160 of the 386 English local authorities currently collect bins fortnightly.
Exeter City Council's debate on bin collections, which has been put forward by the Conservative group, is due to take place later.