Saatchi Gallery shows penguin painting by Devon girl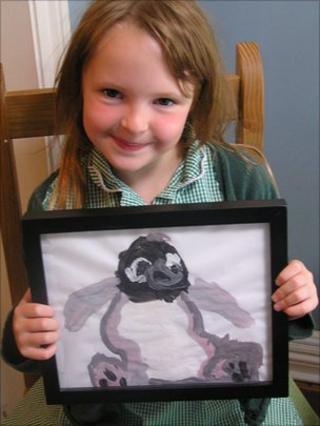 A painting of a penguin created by a Devon girl when she was four years old is being exhibited at a London gallery.
Rebekah Poulain, from Torbay, said she "thought nothing of it" after uploading daughter Leilah's painting to the My Drawings website in a spare moment.
"I got this email a year later saying it had won a competition," she said.
Now the painting is hanging on a wall in the Saatchi Gallery, which is famous for exhibiting the work of artists such as Andy Warhol and Damien Hirst.
Mrs Poulain, 33, said: "About a year ago I picked up a leaflet for a website to upload children's artwork.
"I put a border round it then forgot about it, until I was told it had won a competition.
"It's quite funny really. I couldn't believe it.
"Leilah wants to see her picture in London so we're planning a visit."
Pictures from 20 winning children are appearing in the Education Room of the Saatchi Gallery in Chelsea, west London, for the rest of June.