Devon police sex case officer Nicholas Stone freed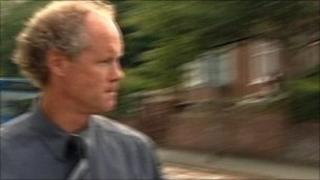 A former Devon policeman jailed for having sex with a woman while on duty has had his prison sentence slashed by appeal court judges.
Nicolas Stone, 41, of Pitminster, Somerset, was jailed for a year at Exeter Crown Court in March for misconduct in a public office.
Three judges at London's Court of Appeal ruled that was "manifestly excessive" and cut it to five months.
Stone will be freed immediately, having served more than half the new sentence.
Stone's trial heard he had sex with the woman while on duty in Tiverton, Devon, in 1999, having met her when he arrested a close relative of hers.
His lawyers claimed Judge Graham Cottle at the trial had considered other matters of which Stone was acquitted when deciding the sentence, and the prison term was too long.
Stone was acquitted at his trial of rape and two other charges of misconduct.
Lady Justice Hallett, sitting with Mr Justice Mackay and Mrs Justice Dobbs at the Court of Appeal, said: "There is nothing inherently wrong in principle or unfair about a trial judge expressing his or her own conclusions based on the facts of evidence as called.
"However, the trial judge must always exercise great care to ensure that he or she does not appear to go behind the verdicts of the jury, or pass a sentence which is inconsistent with those verdicts.
"It is clear the judge did not intend to cross that line... but we see force in the submissions that he may have given the appearance of doing so, whatever his intention."
Stone, who was serving with Devon and Cornwall Police at the time of the offence, has resigned from the Avon and Somerset force which he joined in 2001.