Devon builder Neil Langmead 'killed wife and friend'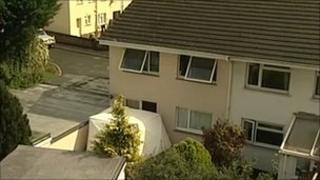 A builder killed his estranged wife and her best friend by stabbing them before setting fire to the house they were in, a court has heard.
Prosecutors at Exeter Crown Court said Neil Langmead killed Donna St John and his wife Deborah after she left him for the sixth time and began a divorce.
The deaths in August 2010 followed an incident at Mrs Langmead's home in Barnstaple, the court heard.
Mr Langmead, 40, of Convent Close, denies arson and two counts of murder.
The court heard that 35-year-old Mrs Langmead had left the family home in Barnstaple in July 2010.
'Domineering behaviour'
She was out on a night out with Ms St John, also 35, at a nightclub in Barnstaple on 21 August when they unexpectedly met up with Mr Langmead, of Convent Close, Barnstaple.
They went back to Mrs Langmead's rented home in Fortmead Close, where Ms St John called her boyfriend in the early hours of the morning.
Ms St John told him the estranged couple had sorted things out, before being heard to shout "what the hell are you doing?" before the line went dead, the court heard.
Firefighters were called to reports of smoke coming from the house and the two women were found with fatal stab wounds in the kitchen.
Mr Langmead was found upstairs with stab wounds to his abdomen.
The jury was told there was a long history of domineering behaviour by Mr Langmead towards his wife.
That had caused her to leave him several times for short periods, including before they married in April 2009.
The couple, both of whom had two children from previous relationships, met and started a relationship in 2005.
Mrs Langmead moved out on 19 July 2010, renting the house in which she died and instructing a solicitor to start divorce proceedings.
The trial continues.