Wales and West 'not helping Barbican businesses'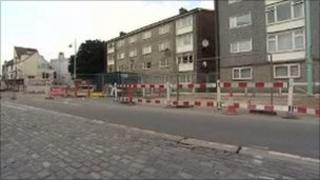 A utilities company behind seven months of roadworks around Plymouth's Barbican has been told it is not offering enough help with compensation claims.
The Plymouth Waterfront Partnership said Wales and West was not doing enough to coach affected firms through applications.
Wales and West said the works being carried out were essential to ensure safe gas supplies.
It added that it was happy to give one-to-one advice to those affected.
Professor David Wheeler, chairman of the partnership - which brings together businesses and the city council to promote the waterfront - said the length of time being taken to carry out the work was "unacceptable".
He said: "If this was happening in London, it would have happened faster.
"To disrupt the economy of this part of the city for 32 weeks is simply unacceptable."
A public meeting into compensation claims is being at the city's Duke of Cornwall Hotel on Thursday evening. However, Wales and West is not due to attend.