Winter road damage repairs under way in Plymouth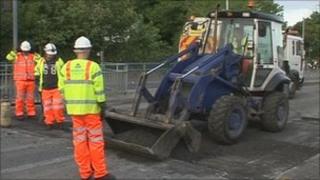 A £1.8m project is being carried out to repair roads in Plymouth that have suffered damage as the result of winter weather over the past two years.
Plymouth City Council said it was spending about £600,000 more than it usually spent on such work, including fixing potholes.
Most of the work during the four-month programme, Operation Upgrade, is taking place overnight to cut disruption.
The authority said it was priority for it and residents.
Councillor Kevin Wigens of the Conservative-controlled authority said: "Our residents tells us it's a priority to have safe, good roads to drive on.
"We believe that it's a priority for us to maintain our investment in those roads and, even though times are challenging in terms of finances, it is a priority for us to deliver the best roads we can within the budget we have."