HMS Enterprise returns to port after 20 months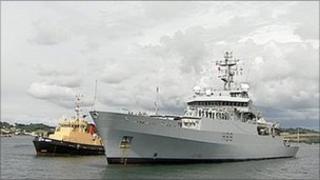 A Royal Navy survey ship has returned to its home port of Plymouth after being deployed for 20 months.
HMS Enterprise left Devonport in October 2009 and has sailed over 50,000 miles (80,467km).
Enterprise has been surveying waters around West Africa, the Gulf and the Red Sea.
The ship will undergo a period of maintenance, system updates and training before being deployed at the end of the year.
HMS Enterprise commanding officer Jon Holmes said: "It is always special for a ship to return to her home base after a long period away."