Plymouth head angry over Butlins' term-time advert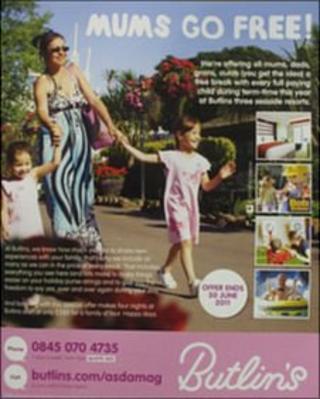 A head teacher has expressed anger at a holiday advert which he said tempted parents to take children out of school during term-time.
The Butlins advert offers a free place to an adult paying the full price for a child in term-time.
Graham Browne, head of Tor Bridge High School, Plymouth, said taking children out of school disrupted learning.
Butlins has admitted the advert sent the "wrong message" and was aimed at families with pre-school age children.
The advert, which is featured in the current consumer magazines for Tesco and Asda, has the tagline "Mums go free!" and has a picture of a woman walking through a Butlins resort holding two children by the hand.
One of the children is of school age.
Small print
Mr Browne told BBC News: "Schools are working very hard to improve attendance.
"What should be a quick win is to discourage parents from taking children out of school and disrupting learning during term-time.
"The advert makes it perfectly clear that Mums go free if a child goes in term-time.
"The deal breaker for us on the advert is reading the small print 'It's open to any child under the age of 15'."
The offer applies to the three Butlins resorts of Minehead in Somerset, Skegness in Lincolnshire and Bognor Regis in Sussex.
Butlins said in a statement: "We unfortunately placed the wrong adverts in recent editions of the Asda and Tesco consumer magazines. This sent out the wrong message.
"The advert should have used our pre-school pictures and wording, making it clear that we were suggesting parents bring their tots for a break in quieter times when the big kids are in school.
"We've spoken to our advertising team to ensure they use the correct adverts in future."