Ashburton Co-op supermarket 'would destroy town'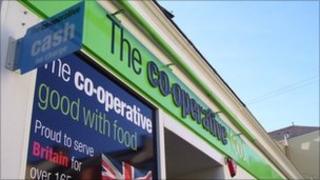 Critics of plans for a supermarket on the edge of a town on Dartmoor, including local traders and residents, claim it would "destroy" the town.
The Co-op wants to build an out-of-town store at Ashburton, close to the Linhay junction of the A38.
More than 100 people attended a public meeting on Monday to discuss their concerns.
The Co-op said the store would only stock food and it was confident it would not take town centre trade.
'Devastating for business'
Businesses in the town said part of Ashburton's appeal was the number of independent traders and they were concerned that was under threat.
Emma Richards who has co-owned Best Sellers wine shop for 22 years said: "We think it will be devastating for our business and for others in the centre of town.
"[If built] The parking will be easier for people and they'll get everything under one roof."
Callum White at Martin The Newsagent added although the new store might not take away many local customers, tourism trade could be affected.
He said: "We rely on a lot of summer visitors. and I think a lot of them will go straight to that instead."
Michael Harriott, who is on the local committee of the Co-op, said he could understand why the "big four supermarkets" [Asda, Morrisons, Tesco and Sainburys] were perceived as a threat to a local community.
But he added: "I don't think that's applicable to the Co-op. It is a small community retailer."
There was not enough room at the venue in St Lawrence Chapel, so the meeting on Monday evening was held outside.
Dartmoor National Park's planning committee is due to decide on the application within the next few weeks.