Price and quality 'boom' for wool producers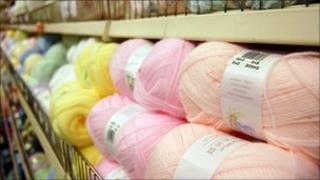 Wool producers in Devon and Cornwall are benefiting from a three-fold price increase for their product.
The British Wool Marketing Board (BWMB) said the price had tripled since 2008, increasing from £0.33 to more than £1 per kilo in 2011.
The BWMB is currently hosting its annual wool conference in Devon.
Brian Dallyn, an Exmoor sheep farmer, said a decrease in the world's sheep population and wool's sustainability meant it was "in demand".
'Green boxes'
Mr Dallyn has pedigree flocks of Blue-faced Leicester and Exmoor Horn sheep and is the south-west representative of BWMB.
He said: "Because of the sustainable nature of wool it's much in demand because it ticks all the green boxes.
"Therefore there's been a resurgence in the demand for it and it's been a big help to the wool producers.
"We've got The Campaign for Wool and we're bringing on board a lot of the retailers throughout the UK and the Australia, New Zealand wool industry to make sure this price is sustainable."
'Best quality'
It is hoped the international campaign will raise the profile of wool, its uses and benefits.
Sue Blacker who runs Blacker Designs in Launceston which specialise in producing items from wool, said: "It means I have to pay more for the wool that I buy, but also it means, more importantly, that the people from whom I buy it get more money and stay in wool.
"Because wool has been so awfully priced there's never been an incentive in the last few years to look after it and provide the very best quality because it would cost most people more to shear and delivery it, than they got for doing it."
It is thought this sudden hike in the price of wool is the best the industry has seen since the post World War II boom.