Painting by Sir Charles Locke Eastlake set to reach £180,000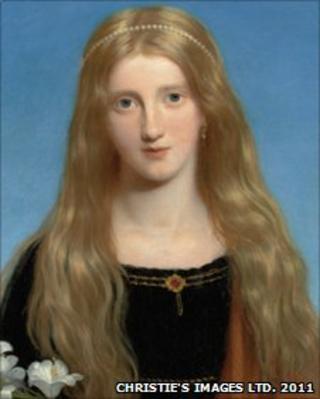 A painting by a Plymouth artist is expected to sell for up to £180,000 at auction.
The Portrait of Miss Bury by Sir Charles Locke Eastlake is estimated to sell for between £120,000 and £180,000 at Christie's in London.
Sir Charles, who was born in Plymouth spent time in London, Paris and Rome.
The portrait shows the daughter of Lady Charlotte Bury and her second husband, the Reverend John Bury, rector of Lichfield in Hampshire.
Sir Charles attended the Royal Academy Schools in 1809 in London before moving to Paris and settling in Rome the following year until 1830.
During his career he was part of the commission set up to oversee the decoration of the new Palace of Westminster and was elected President of the Royal Academy.
He was also made a commissioner for London's Great Exhibition in 1851 and in 1855 was made Director of the National Gallery.
The Portrait of Miss Bury has been described as a "fancy picture" with her black dress reflecting her father's death, her fair hair and the lilies suggest a likeness to a saint.
Nineteenth Century novelist William Makepeace Thackeray, who admired the piece, wrote: "Who does not recollect [Eastlake's] portrait of Miss Bury? Not a simple woman but a glorified saint."