Devon family claim Barry Pring murdered in Ukraine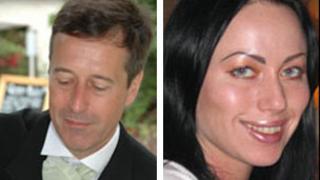 A wealthy Devon businessman who died in a hit-and-run accident while visiting his wife in Ukraine may have been murdered, his family claim.
Barry Pring, 47, was killed by a speeding car in February 2008 while he was out celebrating his first wedding anniversary.
A year earlier he had married a Ukrainian woman he met on the internet.
His wife and her family have denied any involvement in Mr Pring's death.
The case is being investigated by the Ukrainian police.
Neil Parrish, Mr Pring's constituency MP, has called on British government ministers to ensure the investigation is properly carried out.
Mr Pring was hit by the car as he waited for a taxi on the hard shoulder of a dual carriageway near Kiev on 16 February 2008.
No lights
He and his wife, Ganna Zuizina, 29, had been out for dinner at the Kozachyok restaurant in Myla.
His family claim that moments before he was hit she left him to return to the restaurant to pick up some gloves she had left behind.
The family, who live in East Devon, believe Mr Pring had been drugged before he died.
His brother, Shaughan Pring, said: "Upon leaving the restaurant Barry was staggering and barely able to support himself.
"He hadn't had a lot to drink and the British coroner' s report showed his blood alcohol levels to have been relatively low."
'It was odd'
According to Mr Pring's family the car that hit him was travelling at 80mph and had no lights on.
They also said a fake taxi light and false registration plate were found at the scene.
They said the businessman, who had his own IT firm, was a "trusting, hard working, moderately wealthy man".
They said he met his wife online in 2006 and gave her money so she could give up her job as a stripper.
Mr Pring's, whose assets are estimated to be worth £1.5m, had properties in London and Kiev.
The Pring family, who were not invited to the wedding, claim the marriage was "odd and a sham", with the couple spending most of their time in separate countries and communicating mainly by e-mail.
Mr Pring said: "They did not act like a newlywed couple.
'Some closure'
"They did not hold hands, look at each other in the eye or smile at each other. It was odd.
"His widow has been given legal aid in the UK to come over here to claim my brother's assets. It is ludicrous and outrageous."
A post-mortem examination was carried out on Mr Pring's body in Devon but the East Devon Coroner's Office said an inquest would not be held until the Ukrainian investigation had concluded.
Mr Pring said: "I am like a dog with a bone over this. We are determined to find out the truth.
"This will never bring Barry back but it will give us some closure.
Speaking in the House of Commons on Friday Mr Parish, Conservative MP for Tiverton and Honiton, said: "It's not being investigated properly by the Ukrainian authorities.
"Every time we try to get a proper investigation it is blocked."
A Foreign Office spokesperson said: "The British Embassy in Kiev has written to the Ukrainian authorities several times seeking updates on the case.
"We have always passed on whatever information we have received to the family.
"The UK ambassador in Kiev recently met with Mr Pring's brother and his MP, Neil Parish, to discuss the case."