Flame Torbay Costume Hire burglar jailed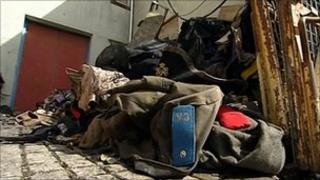 A man has been jailed for six months for raiding a warehouse in Devon that housed costumes used in films.
Exeter Crown Court heard Christopher Donnachie, 29, of St Andrew's Road, Paignton, stole a number of items from Flame Torbay Costume Hire on 3 April.
The court heard that on the same night, a fire at the warehouse destroyed about 5,000 costumes.
An arson charge against Donnachie was dropped at a previous hearing as there was insufficient evidence.
The court heard that he was in the vicinity of the fire hours after the raid.
The fire destroyed more than half of the warehouse's stock, costing the owner about £100,000, the court heard.
The company supplied costumes for films such as the Oscar-winning The King's Speech.
Donnachie stole imitation weapons, bullets, military badges and a police vest with handcuffs.
Prosecutor David Sapiecha said: "A padlock was broken, entry gained and a number of items were stolen."
Defence lawyer Nigel Wraith said Donnachie was drunk at the time and it was "not a particularly sophisticated or sinister" crime.