Devon hog roast salmonella outbreak investigated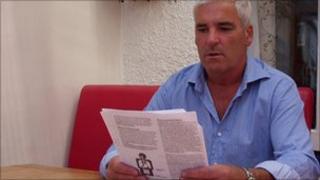 Health officials are investigating cases of salmonella reported by people who attended a Devon hog roast.
The Health Protection Agency (HPA) and South Hams District Council were alerted after a lifeboat fundraising event at Hope Cove on 23 April.
The HPA said it knew of seven confirmed cases so far, but could not be sure of the source of infection until samples were analysed.
Lifeboat organisers declined to comment.
The HPA said in a statement: "The Health Protection Agency, NHS Devon and South Hams District Council carried out an investigation in May 2011, after higher than usual numbers of salmonella were reported.
"The cases of illness also had a potential link to the Hope Cove fundraising event that took place on 23 April.
"Seven people who attended the event were subsequently ill with the same type of laboratory confirmed salmonella infection."
The HPA has asked local doctors to report cases of salmonella which may be linked with the event and a report would be made "shortly".
A spokeswoman said the aim was to trace the source of salmonella.
"If it points to a particular food or caterer we would liaise with the council to speak to those people to prevent it happening again."
South Hams District Council said: "We have been investigating an outbreak of food poisoning associated with a public event in Hope Cove in the South Hams.
"A report is being compiled and all the information is being assessed."
Kingsbridge builder Ian Mason, 54, who said he ate at the hog roast, has been confirmed with a salmonella infection by his doctor.
About 24 hours after the event he suffered severe diarrhoea and vomiting and spent five days in hospital.
He said: "Sometimes I was crying at the end of the bed, the pain was so bad."
The father of three has been off work for the last two months with colitis which doctors say is linked to the salmonella, and he faces a bowel operation.
He said: "I'm trying to look on the bright side and I've had a lot of support from my family and friends."
Ian Pedrick, lifeboat operations director, said: "I would rather not comment."