Bacteria stops beach swimmers in Dawlish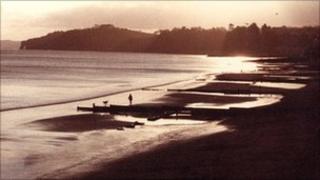 A section of a south Devon beach has been closed to swimmers after high levels of bacteria were found in the water, the local authority has said.
Teignbridge District Council said a "hotspot between two breakwaters" had been identified at Dawlish town beach and people were advised not to bathe.
The authority said the beach remained open and the Environment Agency were investigating.
Earlier in the month, failed water tests had closed the beach to swimmers.
Further tests gave the beach the all clear, but the authority said subsequent samples taken at various points revealed the bacteria "hotspot".
Teignbridge Council's spokesperson for environmental services Kevin Lake said: "We'll shortly be putting up signs advising people where they should and shouldn't swim.
"The Environment Agency will continue its work to pinpoint the cause of this issue, which we hope will be resolved shortly."