HMS Cumberland decommissioned in Plymouth by Royal Navy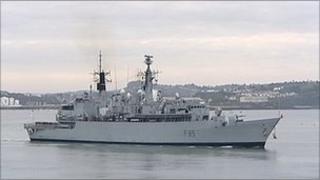 HMS Cumberland has been officially decommissioned by the Royal Navy in Plymouth.
About 100 guests attended the event at Devonport. HMS Cumberland has been axed as part of the Strategic Defence and Security Review.
Capt Steve Dainton said: "It is very sad to see a ship leave active service earlier than we expected."
The Type 22 frigate arrived home for the final time in April after she helped evacuate refugees from Libya.
Capt Dainton said: "HMS Cumberland has always been remembered as a friendly ship and this made her a 'family ship'.
"It was very fitting to have so many of our families here, and friends from her past and present to mark such a significant occasion."