Ashburton Co-op supermarket objectors joined by MP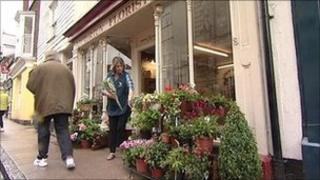 A Devon MP is supporting campaigners fighting plans for a supermarket on the outskirts of a Devon town on the edge of Dartmoor.
Mel Stride, Conservative member for Central Devon, said he agreed that the Co-op will damage Ashburton's thriving independent sector.
The Co-op, which already has a convenience store in the town, said the new store will not affect local shops.
Dartmoor National Park Authority is to make a decision in August.
Mr Stride said: "Ashburton is a highly successful vibrant town.
"Part of that great success has been built upon the strength of its local retailers.
"We have a whole variety of shops there including specialist bakers, fishmongers, and a specialist butcher.
"The fear is that a large supermarket on the outskirts will take trade away and some of those traders may start to suffer."
The Co-op said the new store, close to the Linhay junction of the A38, would create 15 jobs.
But Mr Stride said jobs could be lost in the town as a result.
He said: "We may see a situation in the future when the town centre starts to go into decline and that's something I'm determined to fight very hard against."
A Co-op spokesman said people came to Ashburton for the local shops, and the new store, which would only sell food, would not affect their trade.
More than 100 people attended a public meeting earlier this month to discuss their concerns.
Emma Richards who has co-owned Best Sellers wine shop for 22 years said: "We think it will be devastating for our business and for others in the centre of town."
The nearest supermarkets to Ashburton are in Newton Abbot, about six miles away.