Help for Heroes: Backing from Plymouth fire engines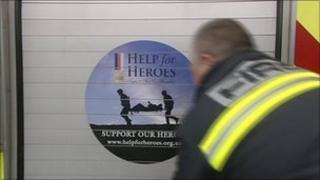 Fire crews in Plymouth are carrying the badge of services charity Help for Heroes on the back of their fire engines.
Seven fire appliances will display Help for Heroes badges and fire fighters will he holding fundraising events.
Devon and Somerset Fire Service said it wanted to support the charity which helps British servicemen and women who have been wounded in combat.
The armed forces welcomed the move and thanked the firefighters.
Steve West, the fire service's area commander, said: "Plymouth has a strong military tradition and a lot of the community are either serving in the military in Afghanistan or a family member is serving.
"Some of our staff have just come back from Afghanistan and we have one member of staff out there at the moment.
"So we wanted to show our support for the Help for Heroes charity."
Brig Stephen Hodder, regional army commander, said: "They don't normally have any endorsement on the wagons at all.
"So the fact that they've chosen Help for Heroes, who are doing so much for us at the moment, I think is a fantastic demonstration of us working together as a team."