Service for Torquay ski death school boy Kieran Brookes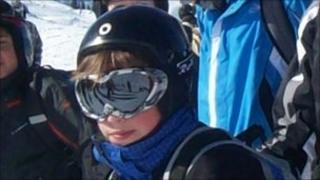 A memorial service has been held at Exeter Cathedral for a Devon teenager who died during a school ski trip to France.
Kieran Brookes, 14, from Newton Abbot, was a pupil at Torquay Boys Grammar School.
He was killed after getting tangled in a ski-lift in the resort of Chatel on 23 February.
His death is still being investigated and his body has not yet been released by the French authorities.
During the service, a fellow pupil performed a piece of music he wrote about Kieran.
Brendan Prince, Kieran's former school housemaster, said: "We're determined that we're going to make this a celebration.
'Let's smile'
"We're going to look back over all the good things that Kieran was included in, little anecdotes from his friends etc.
"We're not expecting people to behave as though they were at a funeral but rather to go and ... let's smile."
Kieran was with a group from his school on a Spring half-term trip to France when his equipment snagged in a chair lift, restricting his airway and causing him to choke.
He was airlifted to hospital in Annecy where medical staff tried unsuccessfully to bring him out of his coma.
He was flown back to the Royal Devon and Exeter Hospital, in Exeter, where he later died.