Devon songwriter Roy Hedges in competition final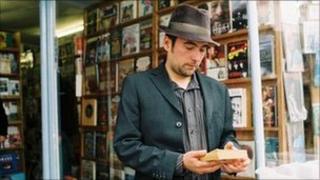 A Devon songwriter has been voted into the final five of a nationwide talent competition.
Roy Hedges from Brixham entered the Glenfiddich MOJO New Voice of 2011 which aims to find the best unsigned singer or songwriter.
The organisers said up to 1,000 people applied to the competition.
Mr Hedges said his lyrics were influenced by the countryside of Devon and Cornwall. He will be competing in the final in London on 12 July.
His album was recorded in Bude and his track Love Lies Bleeding was submitted for the competition.
Mr Hedges said: "The song is about escaping London to the coast.
"The coastal path between Paignton and Brixham helped influence my work."
'Foot in the door'
A judging panel whittled the list of songwriters down to 10 applicants and the general public voted online for their favourite.
Mr Hedges spotted the competition in a magazine and said he did not expect to be contacted.
On 12 July he will perform with his backing band RW Hedges and the Red Kings.
"It's exciting to be recognised. Writing songs is fun, but the challenge is getting the foot in the door."
The final will be judged at the Gibson Studios in London, with the winner awarded magazine coverage, music software and career advice from music professionals.