Plymouth plans to limit charity fundraisers on streets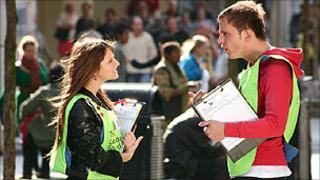 An agreement to restrict the number of charity fundraisers on Plymouth's streets is being negotiated.
Charity collectors, known as "chuggers", are the biggest source of complaints from shoppers, city centre managers said.
They are working with the Public Fundraising Regulatory Association (PFRA) to improve the situation.
The PFRA said it was about finding the "right balance" for charities and shoppers.
Clint Jones, Plymouth city centre manager, said: "It's by far the thing we get most complaints about.
'Finding balance'
"The number of face-to-face fundraisers in the city at any one time can be up to three teams of eight people.
"That's a lot of people to be approached by.
"It's not about the fact that people are collecting for charity, it's the manner in which they are doing it.
"People do not want to be bothered when they are walking through the street."
Mr Jones said he wanted the city centre management team to have more control over the sites charity fundraisers use, the number of times a site is used during a week and the number of collectors.
Face-to-face fundraising involves stopping people on the street and asking them to sign up to to give to a charity via direct debit.
The PFRA was set up 10 years ago as a self-regulatory body for charities involved in this kind of fundraising.
Dr Toby Ganley, head of policy at the PFRA, said: "Our approach is to establish a sustainable level of fundraising so charities can guarantee a reliable income.
"You have to balance the rights of charities to ask for money with the rights of people to go about their business.
Bid for 'slots'
"It's about finding the right mix and the right balance."
He said the PFRA already had site agreements with between 60 and 80 other cities.
The organisation also runs a diary system so charities can bid for collecting "slots" so fundraisers can avoid all turning up at the same spot in a city at the same time.
He said these diaries were already shared with councils so they knew what fundraising was planned.