Torbay Hospital review after baby death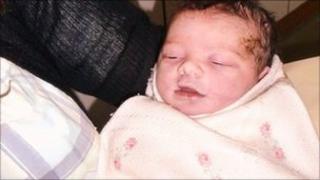 Torbay Hospital has said it will review its maternity procedures following the death of a baby 12 hours after birth.
In a narrative verdict, a coroner recorded that Tabitha Jones died from brain damage caused by a lack of oxygen.
Her mother Jackie, 47, said after the inquest that she should have been transferred to a labour ward earlier.
A spokesman for the hospital said managers took her concerns "very seriously".
Mrs Jones was admitted for an induced birth on 25 August 2010.
'Best efforts'
She said that when she felt her contractions had been close enough she had asked to go to a labour ward, but hospital staff had not listened to her.
"Perhaps they should have listened to me when I said I had gone into labour rather than telling me to go back to bed," she said.
"I just think things could have been handled differently.
"I feel I wasn't listened to."
A hospital spokesman said: "This is a tragic case which occurred despite the best efforts and professionalism of our senior clinical staff.
"Our sympathies are with the family at this difficult time."
Changes were being made "to make maternity care within Torbay Hospital even more effective", the spokesman said.
"This will include a review of the induction of labour policy with particular reference to induction and increased maternal age."