Cash machine stolen in Devon post office raid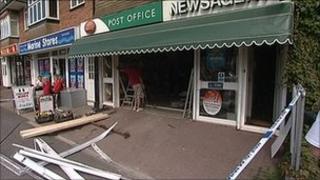 A stolen car has been used by criminals to drive into a Devon post office and remove a cash machine.
The intruders are believed to have used cables or chains attached to the car to remove the machine from the post office in Dawlish, officers said.
The incident happened on Wednesday at about 0300 BST. Police are appealing for witnesses and believe two or three people were involved in the incident.
Officers said it was not yet known how much cash had been stolen.